Ukrainian Armed Forces knocked out the Russian ship "Admiral Makarov!
A number of media outlets have reported that Ukrainian missiles have shot down another Russian frigate.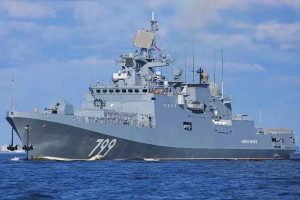 It is reported that the Admiral Makarov frigate is on fire off the coast of Zmeiny Island, according to preliminary data, the ship was hit by Ukrainian Neptune missiles.
Now aviation is operating in the ship's disaster zone, and ships of the Russian Navy have come out of the temporarily occupied Crimea to help the sinking ship.
This was also reported by the deputy of the Verkhovna Rada Oleksiy Goncharenko. We are waiting for confirmation from the Ministry of Defense of Ukraine.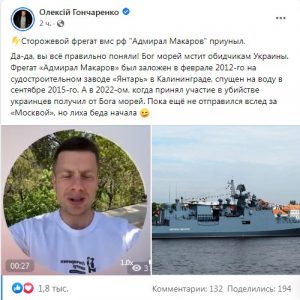 This information was also shared by the Russian opposition journalist Alexander Nevzorov.
The frigate "Admiral Makarov" is a new combat ship that was commissioned in 2017. It is armed with Kalibr missiles (which fire at Ukraine), as well as torpedoes, a Ka-27 or Ka-31 helicopter and an Orlan-10 UAV. The crew of the ship is 180 people.