After yesterday's bombing of the Mariupol Drama Theater, the bomb shelter survived. People come out alive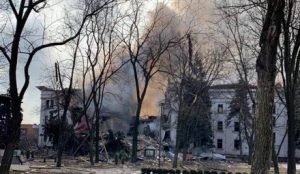 Good news! People's Deputy Serhiy Taruta said that the bomb shelter near the Drama Theater in Mariupol had survived, people were alive, and the debris had begun to be dismantled.
According to preliminary data, about a hundred people could have been there before the bombing.

The Russian occupiers dropped a bomb on the drama theater in Mariupol. They saw for sure that there were children in the theater in Mariupol.
People made two huge inscriptions so that they could be seen from here . But   this did not stop the Nazis
Today the adviser to the chief of the Ministry of Internal Affairs Denisenko declared that the situation in the city of Mariupol is catastrophic.
Телеграм